Industrial places are where most of the heavy workloads and dangerous activities are being carried out all the time. For example, manufacturing products, providing storage for raw materials, and many more.
It is needless to say that every industrial place requires different combinations of luminaires and lighting solutions to provide the right illumination for each specific requirement and needs.
This is because most of the employees work up to 12 hours per day doing the same repetitive task throughout the entire day. That is why it is necessary to plan out the lighting scheme and install the industrial lighting fixtures carefully.

Why is industrial lighting so important?
This is because poor lighting can cause fatigue, eye discomfort, and sometimes even accidents which can greatly affect the workers' motivation and productivity.

Improve Efficiency
Poor industrial lighting with uneven distribution can cause some areas to appear dimmer than others. This can cause not only eye discomfort to adjust to the shifting brightness and also cause potential accidents as the workers may miss a spot when doing work or just walking around.
So, it is important to ensure the illumination is evenly distributed so that the working area is bright and able to see everything clearly. This way it can enhance the concentration of workers, reduce errors, safer machine operation, hence increasing productivity.

Improve Safety
Industrial lighting is also crucial to ensure the safety of workers. Warehouses and factories handle a lot of heavy workloads every day. Without a bright environment, it may easily cause accidents and endanger individuals.
So, the right industrial lighting ensures the workers have a better vision and work carefully to avoid accidents and potential hazards.

Better Surveillance
Last but not least, it can increase the security of industrial places too. With a brighter light source, the better surveillance for greater employee management to monitor.
Or else, crimes like thievery and burglary may frequently happen, as the criminals can take advantage of the shadows caused by poor lighting to steal things easily without being noticed.
LED Industrial Lighting Considerations
In today's highly productive environment, manufacturing facilities never sleep. While operating 24 hours a day increases capacity and productivity, it also upsurges your energy bill from having the lights on day-in and day-out.
If you're using conventional light fixtures, you may be consuming more energy—and paying—for way more than needed. Luckily, there's never been a better time to invest in new, energy-efficient LED lighting solutions.
There are a number of factors unique to your facility that will increase the advantages provided by installing an LED lighting system. Let's go over some of these factors in more detail below.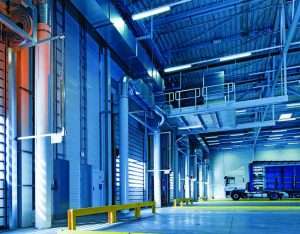 Number of Fixtures

The more lights you have in your factory or warehouse, the more you'll be able to take advantage of the benefits of an LED lighting upgrade. Light fixtures that count towards your total number include: high bay light fixtures, low bay light fixtures, dock lights, exterior security fixtures, and parking lot light fixtures.
To maximize your energy savings, your facility retrofit should have thirty or more new LED fixtures and lamps installed. If you're installing or replacing only a few light fixtures at your facility, it may take a number of years before you start to see any savings on your utility bill.
How much light is enough?
To determine the quantity of lumens required to light up the whole space. You should identify the number of industrial lighting fixtures and the appropriate lux levels required for each task.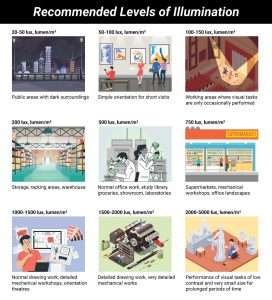 Integrated Lighting Controls
LED fixtures with integrated occupancy sensors can control lighting levels in unoccupied areas of your facility to maximize energy savings. Once an activity is detected, the light levels go up instantly (another benefit of LED lighting) to meet the required light levels for employees working in that area.
Once the sensors detect a period of inactivity, they turn the fixtures off or dim them to a preset level, achieving additional energy savings and extended lamp life.

Vapor-Tight Requirements
Although dependent on industry, many factories are semi-conditioned or non-conditioned spaces and may potentially be exposed to rain or other types of moisture. If these environments aren't properly managed, it can lead to rust, corrosion, and other types of damage to your lighting over time.
There are many brands of industrial light fixtures that are specifically designed with vapor-tight fixtures to ensure bulbs and hardware continues to function properly.

High Ambient Temperature Requirements
As heat rises, hot air becomes trapped in the ceiling. Over time, it's common to have ambient temperatures at the mounting height of the light fixture to reach 55°C up to 65°C, which can dramatically reduce the life of the fixture.
It's crucial to remember when selecting an LED fixture, that the product you select is rated for high ambient temperatures so that they can operate for many years.
Color Rendering Index (CRI)
It is especially important to those places that require the performance of prolonged visual tasks. This is because higher CRI can produce higher accuracy of colors being reflected under the lights for them to carry out the detailed works.
Also, do not forget to review energy usage, other economic and operating characteristics of the lighting system as well.
After you consider these criteria, you can filter and select the suitable LED lighting fixtures for your industrial lighting. You can start designing the layout scheme to arrange the lighting fixtures to provide illumination for a safe and bright environment.

Total Cost of Ownership? How is it related to industrial lighting?
Total Cost of Ownership (TCO) is the total amount of direct costs and indirect costs incurred throughout the entire life cycle of the lighting. It includes the cost of designing, constructing, operating, and maintaining.
It is important to consider the total cost of ownership especially for industrial lighting. This is because it analyses the amount of cost needed for the whole lifetime of lighting and from there you can try to return the maximum amount of benefits invested in the lighting.
Using LED lights for industrial lighting can actually help in minimizing the total cost of ownership.
Even though from the start you may think that the first installation of LED lights cost more than usual. Yet, the maintenance fees and electricity bills can be way lesser than other lighting fixtures like HID after that.
This is because LED technology is famous for its low energy consumption, and longer lifespan. High-intensity discharge (HID) lamp is cheaper during the first installation but requires more maintenance cost for the long run and it is less energy efficient than LED lights too.
So, this is why total cost of ownership cannot be excluded from a lighting project to produce lighting solutions that can help improve the safety and productivity of employees. Remember to not solely focus on getting back benefits of financial payback and ignore the well-being of other employees in the process.
Every lighting applications is unique
Different industrial places require different types of industrial lighting to carry out specific tasks efficiently.
High Bay Fixtures: Often used in factories and warehouses with ceilings approximately 25 feet and higher, high bay fixtures are used for vertical, as well as horizontal, lighting planes, and are functional with a variety of reflectors.
LED high bay fixtures are last longer, correlated-color temperature (CCT), dimming capabilities, directionality, energy efficiency, heat emissions and etc.
Low Bay Fixtures: LED low bay lighting provides full-spectrum, crisp white light in factories and warehouses with low ceilings and mounting heights. Low bay LED luminaires provide better uniformity and coverage compared to traditional metal halide and fluorescent fixtures.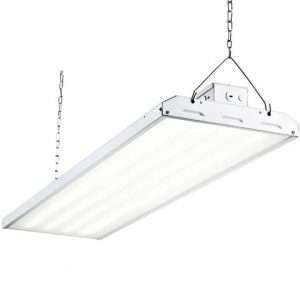 Recessed Troffer Fixtures:

Troffer fixtures are available in three standard sizes: 1'x4', 2'x2', and 2'x4'. While conventional troffer fixtures typically included T12 and/or T8 fluorescent lamps, with 2-4 lamps per fixture, LED solutions either consist of new LED fixtures or LED linear tubes.
Deciding which option is best will depend on your facility's current operating conditions. LED troffer fixtures can be surface-mounted, pendant-mounted, or chain-hung. Choosing how to mount your troffer fixture depends on ceiling fit and desired light performance.
Conclusion
If you want to make your facility more energy efficient, reduce energy consumption and maintenance costs, and boost productivity, contact us today.
EvoGreenTech specializes in the design and implementation of state-of-the-art, energy-efficient and durable LED lighting solutions. We don't "sell" you on recommendations. We educate you and your team on options and tradeoffs to help drive effective, informed decisions.